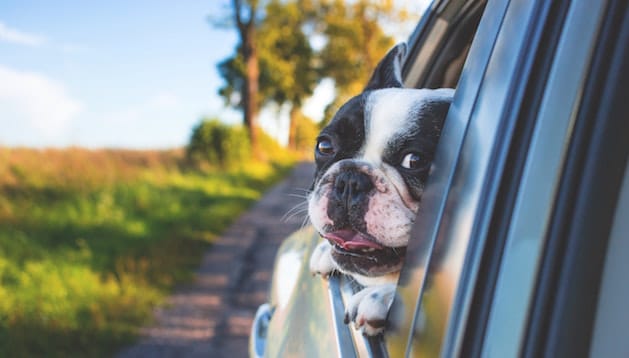 This summer before you head out on your road trips with your family members, you'll want to consider how you're fitting everyone in the car. While your pets are key members of your family, they require more careful coordination in how they travel in the car than others. For everyone's safety, our highly-trained team at our Garden City area Dodge dealership recommends that pets be secured and restrained while in a moving vehicle. Here are some more tips to ensure that your whole family, including your pets, remains safe on your adventures this summer.
Most cars aren't designed with pets in mind, so it's important to find the right ways to secure them if they're traveling with you in your Dodge this summer. Some states have banned drivers from having even small pets on laps, so no matter their size you'll need to give them their own seat. A step-in harness can do the trick and keep a dog from 6 to 150 pounds restrained in and out of the car. You should be sure to measure your pet's chest and neck before ordering to ensure maximum protection. There are other methods as well, but it is important to consider the size of your pet when you choose.
Small Dog Seatbelt
There are several different options for securing your pet in your vehicle. Another one besides a step-in harness is a small dog seatbelt. This is perfect for dogs that weigh up to 25 pounds.
Put Your Dog in A Crate
This is a great option for relaxed, confident dogs that can fit in a crate and comfortably stand up and turn around.
Use a Seatbelt that Incorporates Your Pet's Harness
A seatbelt and harness system uses carabiners to attach to the webbing of your car's seatbelt and your pet's harness. This is a suitable option for dogs that weigh 10 to 150 pounds.
Install A Backseat Barrier
This is a good option for large dogs that struggle to relax when restrained. The barrier keeps your dog in the backseat should you brake suddenly, just make sure it is safely secured.
Use a Leash and Zip-Line Combo
Another option is to use a zip-line system that attaches to your car ceilings hooks so your pet is secure while also free to move around.
Use A Pet Car Seat
For smaller dog or cats, you can install this car seat to give them a better view while keeping them safe.
For more information and tips on keeping your pet safe while you drive, contact us at Town and Country Jeep Chrysler Dodge today!