Your car's first defense mechanism are your brakes. It's extremely important they are working at full capacity at all times. Over time, they will eventually lose power. Our Jeep service center in Long Island will let you know when you will need new brakes. Take note of any of the signs below. If you do experience them, please bring them into our auto repair shop and we'll happily fix them for you.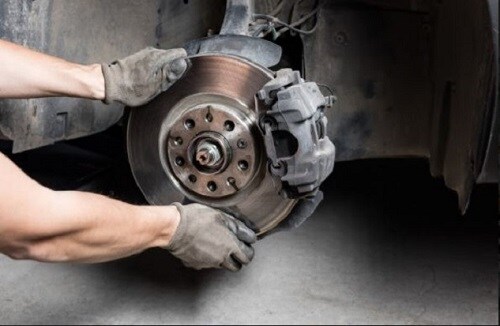 Signs You Need New Brakes From Our Jeep Long Island Service Center
You hear a squealing noise: If you notice a faint scraping, squealing, or buzzing sound, these are your wear indicators. Its sole purpose is to make an obnoxious sound so that you will get them replaced.
Taking longer to come to a complete stop: Known as the "brake fade," this is when your car is noticeably taking longer to come to a full stop.
Vibrations: When you press on the pedal, do you feel violent vibrations. The brake pads may be the problem. These are typically held together by a binding resin. When they wear down, the adhesive gets hot and smears across the rotor. A pulsating brake pedal is not a trustworthy one. If do not fix this issue, it will affect the way you brake safely.
How are you braking: One thing to keep in mind is where you're driving and braking. Are you mostly driving on flat surfaces? This puts less pressure on the brakes to come to a stop. However, going down and uphill more often puts a tremendous amount of pressure because it's supporting the weight of the vehicle on a slope.

If you notice at least one of the symptoms above, it's time to visit our service center. Not only will you be handing your Jeep off to a trusted professional, you can utilize our Long Island Jeep service specials to cut down on the cost of new brakes. With years of experience and using certified Jeep parts, you can be certain that your ride will be performing optimally when it's handed back to you. Fortunately, our service center provides a comfortable lounge area, wide-ranging hours, and easy appointment setting online.
We are more than happy to inspect your brakes and give you a status update on their health and condition. Please contact us at (877) 858-7968 to make an appointment.